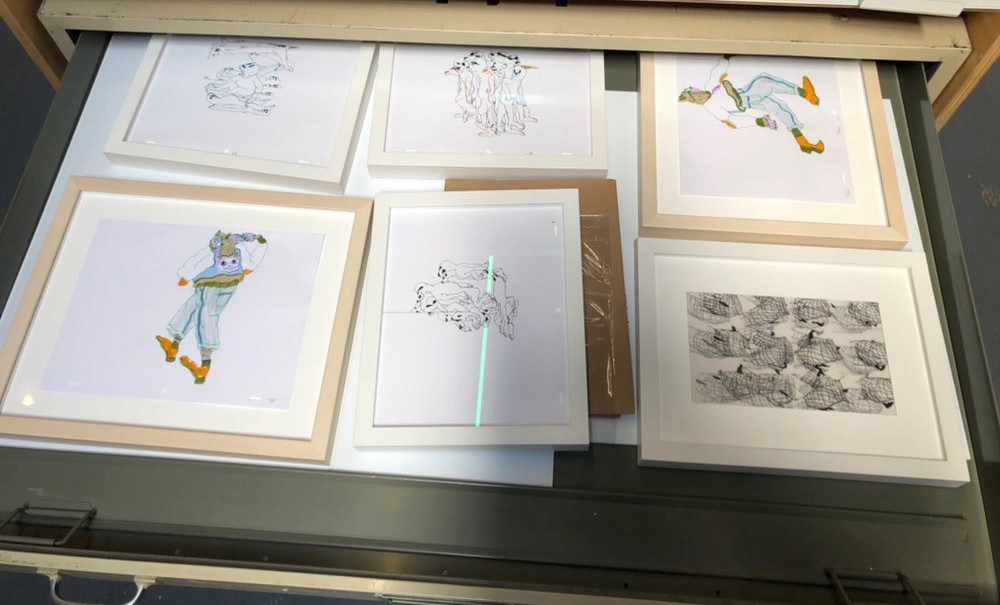 Frame-by-Frame
an essay by Anna Firth
From MM03, released July 2019
----
Last summer I was stuck in a grey area between visas where I couldn't legally work in Canada. I was in a deep chasm between exiting academia and figuring out how to shape my studio practice into a career. I would take the train between my basement room in a housing collective and my half-studio in Chinatown most afternoons and I would draw overnight. I'd usually wait for the sun to come up at five a.m, and tread home. Everything felt upside-down. People would be waiting to take the bus to work and I'd be passing by with red puffy eyes from looking into a light table all night. There were no boundaries to my studio time. And no structure. I was somehow working on things all the time but also not really finishing anything or formalizing it. Immediately after getting a work permit I threw myself into nine-to-five, forty-hour work weeks at a day job. I was hoping to shed the sickly recluse animator vibes and find some balance and structure. I mentally drew a thick red line around the hours of 5 pm to 12 am — my new animation hours.
I'm currently still a night shift animator. Everyone I know seems to have a different approach to their art career and work-life balance. I picked the tangentially-related-day-job lifestyle for now. At the balance of the week, I don't have much time do my own work so I imagine I'll end up trying other arrangements eventually. A while back I was talking to some art workers who have similar jobs to me explaining that they make sure they do one thing each day at their job that benefits their practice. This might look like material research, taking a pause to think, or writing some ideas down. I've been considering how to connect what I do during the day and what I do at night in my studio to figure out what my one thing per day is.
My days go like this: I wake up at 7:40 am and go downstairs (no more basement life). I moved to a share house with six roommates so I can live close to my studio and job. That same thick red line circles the small number of blocks in which my days take place. I make coffee and cartwheel (w/ mug) across a big field to an ex-mattress factory that has been converted to workshops, studios, and spaces for other fabrication endeavors. This neighborhood is a flat industrial plane that developers are trying to rebrand as "THE FLATZ." Usually, the freight train intercepts me and I have to stand with my coffee and stare at it. Sometimes the train will whip forward a few blocks only to recoil to the yard super quickly. It's exhilarating.
At 9 am I am a framer. I work in a custom frame studio building the wildest frames you could dream up. Really big frame? Yes. Really small frame? You've got it. These frames are for art galleries, private collections, residencies, law offices, exhibitions, and other destinations. We also do some art handling, installation, and fabrication. It's a whole other side of the art world that I wasn't familiar with before. Most of what I do is cut the components for frames and assemble them. It is repetitive and meticulous work. Most projects I have to redo two or three times because everything has to be so perfect. There's a full woodshop for custom millwork and two large production spaces where I spend most of my time. I am the king of the laminating press so I do the photo mounting and laminating. I didn't know this process existed so I will tell you this means I take giant printed photographs and turn them into indestructible sheets of metal through a very delicate process. If I get one piece of dust in my laminations or a bubble in my mounts I have to start over.
At 1 pm I eat lunch.
I listen to music all day so I get a lot of time to check out tunes but I wouldn't say that's the one thing I do for myself each day. Sometimes I frame my own cels which is great but this also doesn't feel like the one thing I do for myself. Animation cels feel kind of odd to frame since they seem like a byproduct of a bigger process. They are meant to be seen all together flying by so putting a cel in a frame is like pausing it forever. Framing cels I've collected from other animators feel like celebrating moments that I've been lucky enough to freeze. It seems like such a private experience to see individual frames. They hold all this secret information that you can't see at twenty-four frames-per-second and that maybe wasn't meant to be seen.

When five pm strikes I am the other kind of framer. The frame drawer. I cartwheel backward across the field, past my house to my studio. I feel like one of my the characters in my loops endlessly plodding between these three locations. I wonder if I'm experiencing a similar futility to my animated counterparts as my paycheck disappears into rent and I miss another art deadline because I have to catch up on sleep. I've thought maybe the repetitive tasks I do at my job — building the same frame three or four times until it doesn't have dust in it — becomes a rehearsal for the repetition that I'll perform at the studio in the evening as I retrace the same drawing over and over. This might be what I get from my job.
Animation and framing share some qualities. Both inhabit rectangles. There was a while where I was collecting field guides because I thought they were interesting objects. These are the target-wormhole pages that were traditionally used to make screen-safe compositions. Both kinds of frames ask you to stay clear of the edges, though, animation will happily exit the frame. There is a relationship between frames and screens. I recently borrowed an old CRT monitor to use in my studio and I will throw some animations on it and look at how the 2 inches of black plastic encloses the screen. I caught myself discussing a plan to "re-case" this monitor as if I was trying to design a deep frame that would hold a whole TV. This old monitor seems to resemble a frame more than a newer flat-screen TV does. The glass buzzes when you touch it and I like to imagine that static charge on the face of a frame.
The opening lines to George Griffin's 1979 essay film "Lineage" have always stuck with me. Scratched film marks flicker as he reads, "I drew this line directly on film. Now it's moving through a projector that cleverly creates the illusion of stationary film and moving line. I too am stationary having lived and worked in New York City for the past 12 years." I think I'm stationary as well at the moment as I inhabit this cycle of furious production. I wonder what the ideal alternative animation career is or what how animation work should look. At 12 am I usually leave the studio to go to bed. In many ways, I am thankful for the structure and resources I get from living in this strange loop. In other ways, I'm a restless participant who is caught up in some system bigger than I can see and looing backward as I tumble around.

----